In 1996, three of us started a new 'social business'. Building on our long-standing friendship, many conversations about doing something different and a shared idea about the integrated nature of social, economic and environmental development, we embarked on the project. We had to find a property, persuade others (family, friends and a bank) to lend us the purchase price and work out how to start putting our idea into action.
It was, for us, a big venture… and we were pretty daunted. But a surprising number of aspects simply fell into place and quite quickly it just became unstoppable. We came to recognise and cherish the aptness of Goethe's adage 'The minute you take the first step, then providence moves too'. Shortly after we had registered the name 'Trigonos' as a company limited by guarantee, someone told someone else who told us that a residential arts centre set in 18 acres of land on the edge of an unspoilt lake and with an uninterrupted view of Snowdon had recently gone bankrupt and was up for sale.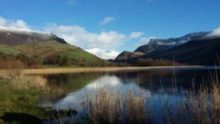 We went to see it and we knew without needing any discussion that it was right, even though it was 3 times the size of anything we had viewed till then and even though we had no way of knowing how we would raise the much higher asking price than we thought we could possibly raise.
From the project's first year until we handed it over, some 24 years later, Trigonos earned enough income each year to invest further in the land and the buildings and in developing the site as a model of sustainability. It found its place in the locality, supplying fresh vegetables, offering a venue for community celebrations, employing 20+ people and providing useful voluntary activity for young adults (and sometimes not so young adults) who were finding it hard to get paid work.
In one year, Trigonos won two awards – the first for 'Most Sustainable Business' and the second for 'Green Tourism' in North Wales.
It required dedicated and relentless work, but was deeply satisfying. Our efforts were confirmed and rewarded by the enthusiasm of our colleagues and well-wishers and, above all, by the numbers of groups and individuals who returned again and again to Trigonos as a place to hold their courses, bring their families or provide a setting where they could simply be themselves.
In September 2020, in the midst of the Covid-19 pandemic that had already sunk many a comparable initiative, the three of us stepped back and gifted both the site and the business to the Ruskin Mill Trust feeling confident in their dedication to the spirit of place and to giving young people with special learning needs real chances to make something good of their lives by learning about the art of well-being and hospitality.
The Goethe quote above, starts with an inspiring challenge: 'Whatever you think you can do, do it'  we hope that Trigonos has inspired many others to break a mould and to just 'have a go' at doing things differently.
Download: Reflections on Trigonos 1996-2020