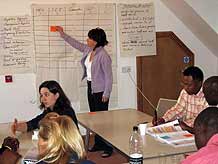 For 20 years I worked with an international NGO (non-governmental organisation), the International Business Leaders Forum (IBLF), leading their 'cross-sector partnership' work.
During my years with IBLF, I was given 'carte blanche' to develop ideas, tools and techniques that would build capacity around the world and in all three sectors to 'partner' effectively. Much of this material is captured in a series of Partnering Tool Books that IBLF generously makes available to anyone interested – go to www.ThePartneringInitiative.org to download copies – the introductory one The Partnering Toolbook is available in a number of languages as well as English.
There is much to say about the wide-ranging nature of this partnership work, but my focus for the past 8+ years has been on the specific issue of 'partnership brokering' – a term (I think) I invented in 1998 when I co-authored a book published by the United Nations Development Programme The Guiding Hand. The term 'partnership broker' describes anyone (whether 'internal' to one of the partner organisations or 'external' operating as an independent specialist) working on behalf of the partnership as a whole to make it efficient and to help optimise its potential.
Download 'What is a partnership broker?'
In 2003, with a colleague (Michael Warner), the first training programme was launched for those operating in the partnership-brokering role – designed to build the skills, confidence and competencies necessary to broker partnerships effectively. Since then the scope of work has grown significantly and there is now a freestanding professional not-for-profit entity – the PARTNERSHIP BROKERS ASSOCIATION (PBA) – that delivers a comprehensive range of training courses, undertakes action research and produces learning case studies into the added value brokers bring to partnerships. PBA now has more than 2,400+ alumni (graduates of the training course), 400+ of whom have been formally accredited partnerships brokers. Through a team of 5 Associate Directors (operating as a long-distance team in 5 countries and across 3 continents)and a network of 50 approved Associates, PBA also offers a range of partnership brokering services worldwide. See www.partnershipbrokers.org
As well as helping to run the Partnership Brokers Association, I also work as a partnership broker – particularly in brokering the idea of investing properly in the partnering process to build partnerships that are robust and that lead to transformation and sustainable outcomes.
Something of this role is enshrined in the following paper – co-written with a partnership broker colleague, Rafal Serafin – based on work we did together in Poland in 1993.
Download Brokering the Idea by Ros Tennyson and Rafal Serafin
For far more information go to the PBA website (see above).